Allen & Page's "The Organic Feed Company" make the Layers Pellets which our hens eat as their main food. The feed is recognised by the Soil Association as organic.
The pellets are a farmyard layers feed which produce a deep natural yellow yolk with fantastic taste because it contains no yolk pigmenters which other feeds use. The pellets are drug-free and are ideal for our hens who enjoy living free range because they are designed for non-intensive conditions. Other types of food is available, they are formulated for high performance diets for intensive or commercial production.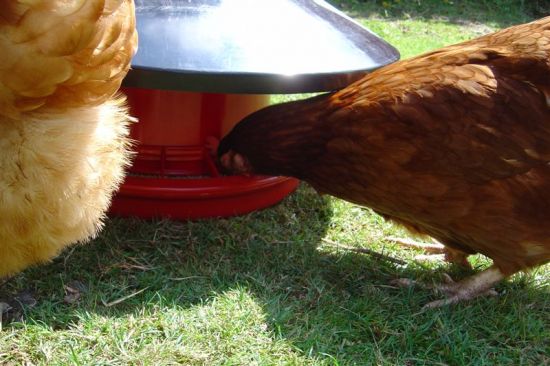 In our hens' food, there are no artificial vitamins, amino acids or yolk pigmenters – natural ingredients provide the vitamins and amino acids which hens need for a balanced diet. There are no coccidiostats or artificial growth promoters added to the feed, so it's as natural and as good for them and us as is possible.
The ingredients of the feed are: organic wheat, soya,calcium carbonate, organic alfalfa, organic peas, wheat feed, linseed, natural vitamins, di-calcium phosphate, sea salt and marigold leaves.
The hens enjoy the pellets because they contain no genetically modified ingredients, animal by-products, synthetic amino acids, artificial flavours or colours, and they don't usemedicinal additives or solvent-extracted ingredients.